Well, I finally got around to building the sectional layout that I have been dreaming about for years. Work started in early February of 2002 and was completed in late April of 2002, The layout measures approximately 20 feet long and 10 feet wide. It is not modular as each section has a specific section to which it connects.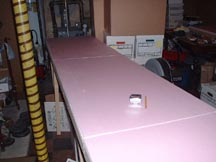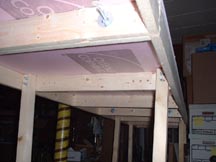 As can be seen from the photos, 2 x 3 lumber and pink builders foam were the main ingredients as my goal was to keep the layout light weight. Legs are made from 2 x 4's that were ripped into 2 x 2's.




Tack used was Atlas flex and sectional track laid on cork. This was tacked down with nails. Throughout the project Liquid Nails adhesive and a glue gun were used. I highly recommend both for their speed and strength.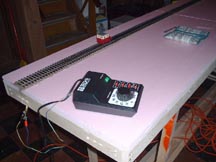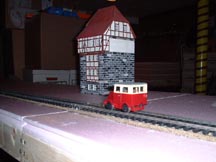 These last two photos show the first test run in early February. Note the borrowed 'scenery', as I felt the need to have something on top of the endless plains of pink, which by the way is NOT my favorite color.

NEXT