This railbus ran on the Zittau-Oybin line in Saxony and is awaiting its final paint scheme. Note that it is gauged for operation on Oe (HO) track.




Well, the railbus made it into and out of the paint shop. It still needs lining, lettering, and glass. At least progress is progress! (Aug. 29, 2001 update) Well, the glass has gone in and the striping is one, just waiting on the lettering now. Does anybody where I can find lettering for this vehicle or have any suggestions?





Another addition to the fleet are these two Fleischmann Magic Train coaches in DRG green. They go great with the Zittau railbus and will soon be followed by a few more.




The Harzbahn GHE T1 has successfully completed its trial runs! This Om model is scratch built using styrene and a modified HO
drive unit.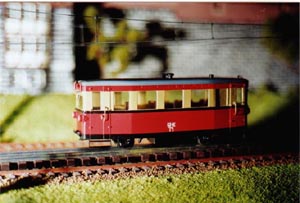 BACK